I am attending the Oregon Association for career and Technical Education (OACTE) Spring Conference and I wondered if I could rent a robot to give me a virtual telepresence.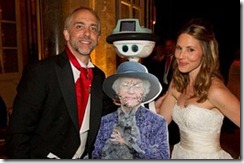 You can rent one for weddings.
I imagine my thinking was based on this episode of The Big Bang Theory – Sheldon as a Robot
What really inspired me was the recent article about Evernote CEO Checks In On Employees By Using A Six-Foot-Tall Robot and I thought, I am attending the OACTE conference and why couldn't I replace myself with a robot like this one.
So I went to the AnyBot site and found that I began to wonder why I couldn't purchase one and use it to actually teach my students from remote.  It is affordable, so affordable I could rent it to other teachers.
I did have a student say they saw one in use in a hospital so the Doctor could make their rounds.
I think it is the wave of teaching in the future.
How do you KNOW if it is a great idea?
Ask students.
What do you think of your teacher being replaced with a robot?